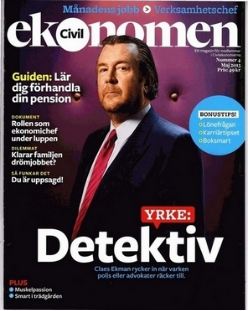 Read about Private Detective Claes Ekman - "when lawyers and police in Europe won't suffice" - in the academic journal / business magazine Civilekonomen.
Absence of voices / Absence of words ... Lost paths, lost thoughts, lost ideas ... Who are we missing?
What is the cavity in your existence? What has happened, or rather, what has happened that has not happened before; and why? Meet with us in London or New York - or anywhere - explaining your situation, in an honest attempt to find the truth.
We specialize in Logic, Language, Truth - and the Law.
Walhallen is a licensed private detective / private investigator group with associates / offices in nine countries (USA - Brazil - France - Germany -Sweden - Ukraine - Russia - China - Kenya) and ten cities (New York - Dallas - São Paolo - Paris - Berlin - Stockholm - Kiev - Moscow - Beijing - Nairobi). We specialize as private fraud / finance / business / matrimonial / commerce / industry detective-s / investigator-s.
Private Detective / Private Investigator Internet / Cyber Security in USA, Canada, Latin America, Africa, Asia, and Europe (Sweden, Denmark, Norway, Germany, Russia, Ukraine, France, Holland, England, Italy, Spain, et seq).
www.walhallen-private-detective-internet-cyber-security.com www.private-detective-walhallen.com www.private-detective-claes-ekman.com www.walhallen-private-detective-internet-intelligence-platform.com
Global Detective Telephone-s:
+46 730 983 700 (Europe-Asia-Middle East-Africa)
+1 205 2583 700 (North America/USA-Canada-Mexico - South America/Brazil-Argentine et seq.